The cumulative damage of startup layoffs has been severe: 500 tech companies have now laid off 64,000+ employees during the pandemic. I wanted to find out — what have these companies been doing to mitigate the impact on laid-off employees?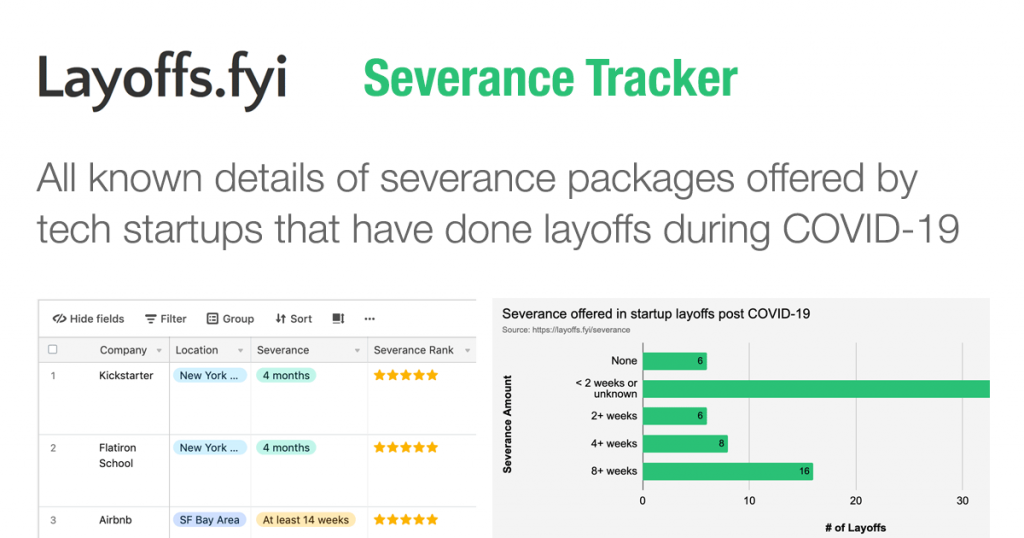 I'm excited to announce the new Layoffs.fyi Severance Tracker, which tracks all known details of the severance packages offered, compiled from media reports and company announcements. You can see how much each company gave in severance pay and healthcare coverage, whether they made any adjustments to employee stock options, and more. You can also see which CEOs pledged to take a pay cut to show solidarity.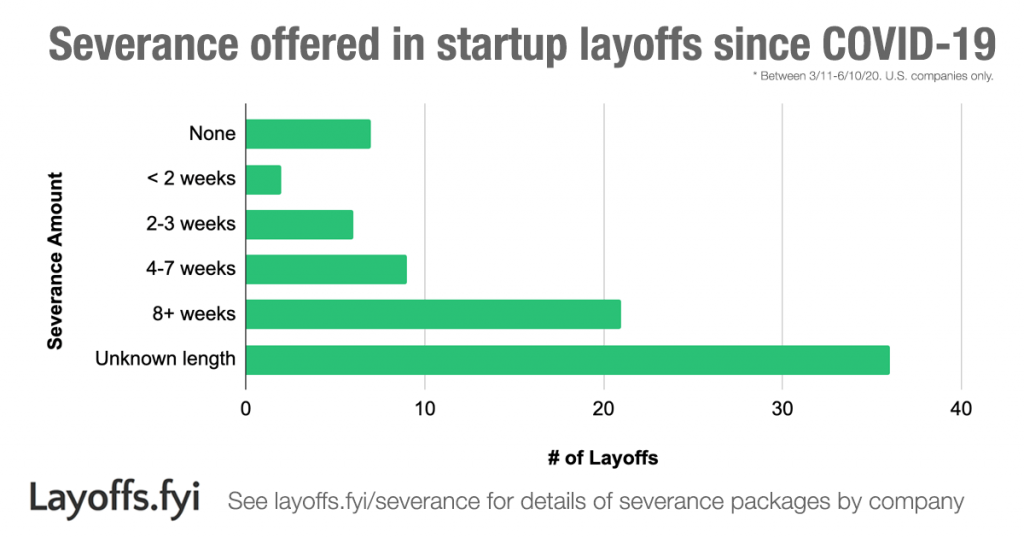 On the whole, the severance packages in COVID-19 layoffs have been more generous than in a typical employee termination, given that it was caused by reasons out of their control. 21 startups have offered over 8 weeks of severance pay, much more than the 2-week standard. Kitty Hawk tops the charts with a whopping 20 weeks of severance.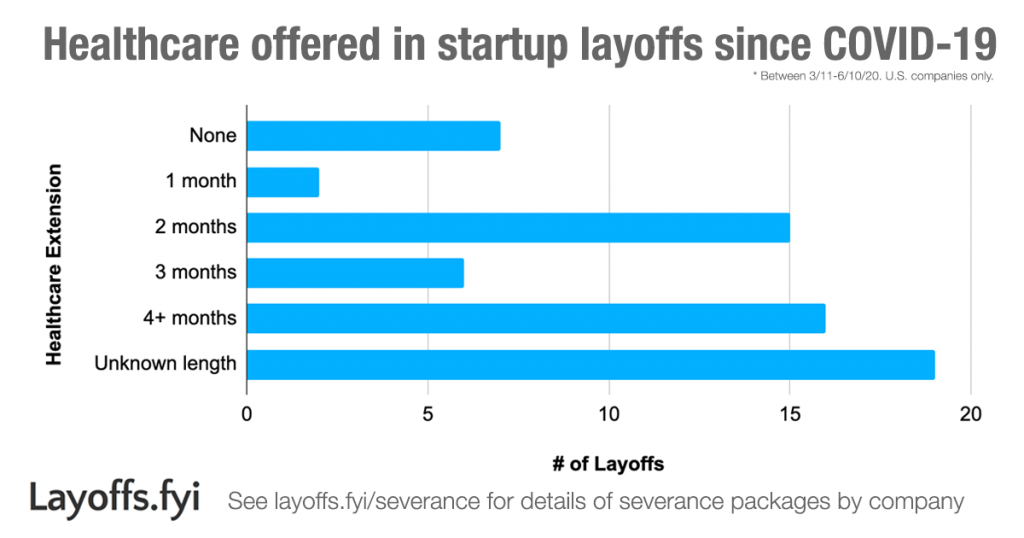 Many startups have also gone above and beyond in extending healthcare coverage, perhaps recognizing that in this environment, it will take longer than usual to find a new job. Insurance typically lasts through the end of the month of an employee's termination, but 16 startups offered to extend benefits by at least 4 additional months. Airbnb and GoSpotCheck lead the pack with a full 12 months of extended healthcare benefits.
Other assistance commonly offered include outplacement services, help with resume preparation, and allowing employees to keep their company-issued laptop. As Layoffs.fyi has been highlighting, companies like Airbnb, Uber, and Samsara have also been launching official alumni talent directories to promote their ex-employees.
Which startups have been the most generous to laid-off employees? Of the 500 startups with layoffs, 10 of them offered more than 8 weeks of severance pay and more than 4 months of extended healthcare coverage: Kitty Hawk, Kickstarter, Airbnb, TrueCar, Carta, Glassdoor, Uber, Greenhouse, Brex, and Opendoor. Airbnb and Carta have also been praised for the transparency and empathy displayed in their layoff communication.
| Company | Severance Pay | Healthcare Coverage | Layoff Date |
| --- | --- | --- | --- |
| Kitty Hawk | 20 weeks | Through 2020 | 6/3/20 |
| Kickstarter | 4 months | 4-6 months | 5/13/20 |
| Airbnb | At least 14 weeks | 12 months | 5/5/20 |
| TrueCar | 13 weeks plus 1 week for every year of service | Through 2020 | 5/28/20 |
| Carta | 3 months | Through 2020 | 4/15/20 |
| Glassdoor | 3 months | Through 2020 | 5/7/20 |
| Uber | 10 weeks | Through 2020 | 5/18/20 |
| Greenhouse | 8 weeks | Through 2020 | 4/17/20 |
| Brex | 8 weeks | Through 2020 | 5/29/20 |
| Opendoor | 8 weeks | 16 weeks | 4/15/20 |
There's no denying the financial and psychological devastation felt by someone who suddenly loses their job. It's nice to see that, at least in some cases, startup employers are trying to cushion the blow.
Check out the Layoffs.fyi Severance Tracker for full details of severance packages offered by company. Have info about a severance package? Let us know!